About Me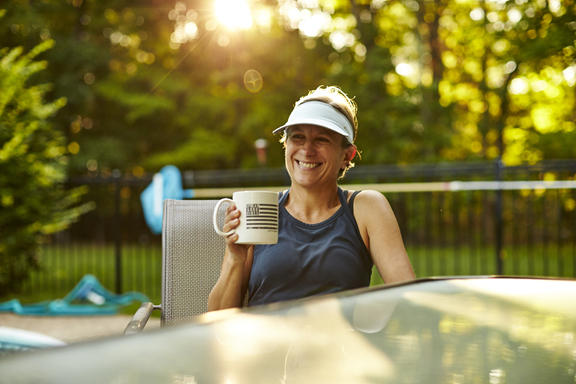 I run. It's simple. Shirt, shorts, shoes…GO! Like my other passion (coffee*), running brings clarity and sanity to my mostly organized, somewhat chaotic life.
I'm a wife and a mom of two daughters, ages 17 and 13. Adding to the craziness are my golden retrievers Thor and Ginger plus 3 cats. Living in the Boston burbs I have the ocean and three great seasons (sorry, Winter). I run in heat, rain, sleet and snow. I'm a mostly plant-based, masters runner, always in training.
In 2002 (when my oldest was 2) I left corporate life after 10 years to find a balance between my creative side with being a numbers geek. However many times I have tried to convince myself I am not a writer, I kept getting little nudges, especially while running, that I have something to say. The Universe gave me a clear sign that I am a writer when I was accepted to attend Wilder, a running and writing retreat, in September 2016. I am also very excited to say that I will be attending another Wilder retreat in August 2017.
Besides being a beginner blogger/writer, I am excited to also be a beginner coach. First up I will be Assistant Track Coach at a local high school this Spring. I am super pumped about it all.
Why Running on Venti? Well, I'm literally running on (and for) coffee. But…it's also so much more. It's about not being afraid to step into a bigger space for yourself. About finding adventure. Going bigger or going home. Signing up for that race you don't think you can do. Taking a day off when you need it. I'm hoping this blog brings just a little inspiration, guidance and truth when you need it through the reality of my daily life and experiences. Actions I am taking or scared to take. The ups and downs of going big or going home. I'm an all-in kind of gal. I don't test the water, I jump right in. That means mistakes get made. And trust me I have made a few. Coffee is my fuel, and running is my vehicle on the journey of life. Hope you'll join me. We've got one life. Let's live it and love it.
So, you can find me most days running and sharing the reality of my daily life on my blog and my favorite social media, Instagram (@runningonventi).
*Venti Iced Cold Brew (as long as temps above 40) with hazelnut and either soy, almond, or coconut milk (depends on my mood that day).
Photo hat tip:  Josh Campbell
Subscribe to my monthly newsletter and come run with me!
I'll be sharing my obsession with running, coffee + so much more including some things that I won't be sharing with anyone else. Even on Instagram. 😊